History
Agent Orange was a powerful herbicide used by U.S. military forces during the Vietnam War to eliminate forest cover and crops for North Vietnamese and Viet Cong troops. The U.S. program, codenamed Operation Ranch Hand, sprayed more than 20 million gallons of various herbicides over Vietnam, Cambodia and Laos from 1961 to 1971. Agent Orange, which contained the deadly chemical dioxin, was the most commonly used herbicide. It was later proven to cause serious health issues—including cancer, birth defects, rashes and severe psychological and neurological problems—among returning U.S. servicemen and their families, as well as, among the Vietnamese people.
U.S. veterans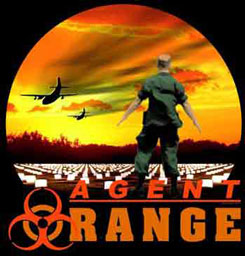 While in Vietnam, the veterans were told not to worry and were persuaded the chemical was harmless. After returning home, Vietnam veterans began to suspect their ill health or the instances of their wives having miscarriages or children born with birth defects might be related to Agent Orange and the other toxic herbicides to which they had been exposed in Vietnam. Veterans began to file claims in 1977 to the Department of Veterans Affairs for disability payments for health care for conditions they believed were associated with exposure to Agent Orange, or more specifically, dioxin, but their claims were denied unless they could prove the condition began when they were in the service or within one year of their discharge. In order to qualify for compensation, veterans must have served on or near the perimeters of military bases in Thailand during the Vietnam Era, where herbicides were tested and stored outside of Vietnam, veterans who were crew members on C-123 planes flown after the Vietnam War, or were associated with Department of Defense (DoD) projects to test, dispose of, or store herbicides in the U.S.
By April 1993, the Department of Veterans Affairs had compensated only 486 victims, although it had received disability claims from 39,419 soldiers who had been exposed to Agent Orange while serving in Vietnam.
U.S. Congress
In 1991, Congress enacted the Agent Orange Act, giving the Department of Veterans Affairs the authority to declare certain conditions "presumptive" to exposure to Agent Orange/dioxin, making these veterans who served in Vietnam eligible to receive treatment and compensation for these conditions. The same law required the National Academy of Sciences to periodically review the science on dioxin and herbicides used in Vietnam to inform the Secretary of Veterans Affairs about the strength of the scientific evidence showing association between exposure to Agent Orange/dioxin and certain conditions. The authority for the National Academy of Sciences reviews and addition of any new diseases to the presumptive list by the VA expired in 2015 under the sunset clause of the Agent Orange Act of 1991. Through this process, the list of 'presumptive' conditions has grown since 1991, and currently the U.S. Department of Veterans Affairs has listed prostate cancer, respiratory cancers, multiple myeloma, type II diabetes mellitus, Hodgkin's disease, non-Hodgkin's lymphoma, soft tissue sarcoma, chloracne, porphyria cutanea tarda, peripheral neuropathy, chronic lymphocytic leukemia, and spina bifida in children of veterans exposed to Agent Orange as conditions associated with exposure to the herbicide. This list now includes B cell leukemias, such as hairy cell leukemia, Parkinson's disease and ischemic heart disease, these last three having been added on August 31, 2010. Several highly placed individuals in government are voicing concerns about whether some of the diseases on the list should, in fact, actually have been included.
In 2011, an appraisal of the 20-year long Air Force Health Study that began in 1982 indicates that the results of the AFHS as they pertain to Agent Orange, do not provide evidence of disease in the Operation Ranch Hand veterans caused by "their elevated levels of exposure to Agent Orange".
The VA initially denied the applications of post-Vietnam C-123 aircrew veterans because as veterans without "boots on the ground" service in Vietnam, they were not covered under VA's interpretation of "exposed".
In June 2015, the Secretary of Veterans Affairs issued an Interim final rule providing presumptive service connection for post-Vietnam C-123 aircrews, maintenance staff and aeromedical evacuation crews. The VA now provides medical care and disability compensation for the recognized list of Agent Orange illnesses.
Background
The United States discovered 2,4-dichlorophenoxyacetic acid (2,4-D) during World War II. It was recognized as toxic and was combined with large amounts of water or oil to function as a weed-killer. Army experiments with the chemical eventually led to the discovery that 2,4-D combined with 2,4,5-trichlorophenoxyacetic acid (2,4,5-T) yielded a more potent herbicide. It was found that 2,4,5-T was contaminated with 2,3,7,8-tetrachlorodibenzodioxin (TCDD), commonly called "dioxin". Researcher Alvin Lee Young found that samples of 2,4,5-T in Agents Pink and Green had doubled the TCDD concentration of Agents Purple or Orange.
Rainbow Herbicides
The Rainbow Herbicides are a group of tactical-use chemicals used by the United States military in Southeast Asia during the Vietnam War. Success with Project AGILE field tests with herbicides in South Vietnam in 1961 and inspiration by the British use of herbicides and defoliants during the Malayan Emergency in the 1950s led to the formal herbicidal program Trail Dust (see Operation Ranch Hand). Herbicidal warfare is the use of substances primarily designed to destroy the plant-based ecosystem of an agricultural food production and/or to destroy foliage which provides the enemy cover.
Use in the Vietnam War
In mid-1961, President Ngo Dinh Diem of South Vietnam asked the United States to help defoliate the lush jungle that was providing cover to his Communist enemies. In August of that year, the Republic of Vietnam Air Force conducted herbicide operations with American help. Diem's request launched a policy debate in the White House and the State and Defense Departments. Many U.S. officials supporting herbicide operations, pointing out that the British had already used herbicides and defoliants in Malaya during the 1950's. In November 1961, Kennedy authorized the start of Operation Ranch Hand, the codename for the United States Air Force's herbicide program in Vietnam. The herbicide operations were formally directed by the government of South Vietnam.
During the Vietnam War, between 1962 and 1971, the United States military sprayed nearly 20,000,000 U.S. gallons (76,000 m3) of various chemicals – the "rainbow herbicides" and defoliants – in Vietnam, eastern Laos, and parts of Cambodia as part of Operation Ranch Hand, reaching its peak from 1967 to 1969. For comparison purposes, an olympic size pool holds approximately 660,000 U.S. gal (2,500 m3). As the British did in Malaya, the goal of the U.S. was to defoliate rural/forested land, depriving guerrillas of food and concealment and clearing sensitive areas such as around base perimeters and possible ambush sites along roads and canals.
Agent Orange was usually sprayed from helicopters or from low-flying C-123 Provider aircraft, fitted with sprayers and "MC-1 Hourglass" pump systems and 1,000 U.S. gallons (3,800 L) chemical tanks. Spray runs were also conducted from trucks, boats, and backpack sprayers. Altogether, over 80 million liters of Agent Orange were applied.
The first batch of herbicides was unloaded at Tan Son Nhut Air Base in South Vietnam, on January 9, 1962. U.S. Air Force records show at least 6,542 spraying missions took place over the course of Operation Ranch Hand. By 1971, 12 percent of the total area of South Vietnam had been sprayed with defoliating chemicals, at an average concentration of 13 times the recommended U.S. Department of Agriculture application rate for domestic use. In South Vietnam alone, an estimated 39,000 square miles (10,000,000 ha) of agricultural land was ultimately destroyed. In some areas, TCDD concentrations in soil and water were hundreds of times greater than the levels considered safe by the EPA.
The campaign destroyed 20,000 square kilometers (5×106 acres) of upland and mangrove forests and thousands of square kilometers of crops. Overall, more than 20% of South Vietnam's forests were sprayed at least once over the nine-year period. 3.2% of South Vietnam's cultivated land was sprayed at least once between 1965 and 1971. 90% of herbicide use was directed at defoliation.
The U.S. military began targeting food crops in October 1962, primarily using Agent Blue; the American public was not made aware of the crop destruction programs until 1965 (and it was then believed that crop spraying had begun that spring). In 1965, 42% of all herbicide spraying was dedicated to food crops. In 1965, members of the U.S. Congress were told, "crop destruction is understood to be the more important purpose ... but the emphasis is usually given to the jungle defoliation in public mention of the program." The first official acknowledgment of the programs came from the State Department in March 1966.
A study carried out by the Bionetic Research Laboratories between 1965 and 1968 found malformations in test animals caused by 2,4,5-T, a component of Agent Orange. The study was later brought to the attention of the White House in October 1969. Other studies reported similar results and the Department of Defense began to reduce the herbicide operation.
On April 15, 1970, it was announced that the use of Agent Orange was suspended. Two brigades of the Americal Division in the summer of 1970 continued to use Agent Orange for crop destruction in violation of the suspension. An investigation led to disciplinary action against the brigade and division commanders because they had falsified reports to hide its use. Defoliation and crop destruction were completely stopped by June 30, 1971.
The rainbow herbicides damaged the ecosystems and cultivated lands of Vietnam, and led to buildup of dioxins in the regional food chain. About 4.8 million people were affected.
In addition to testing and using the herbicides in Vietnam, Laos and Cambodia, the US military also tested the "Rainbow Herbicides" and many other chemical defoliants and herbicides in the US, Canada, Puerto Rico, Korea, India, and Thailand from the mid-1940s to the late 1960s. Herbicide persistence studies of Agents Orange and White were conducted in the Philippines. The Philippine herbicide test program was conducted in cooperation with the University of the Philippines College of Forestry, and was also described in a 1969 issue of The Philippine Collegian, the college's newspaper. Super or enhanced Agent Orange was tested by representatives from Fort Detrick and Dow Chemical in Texas, Puerto Rico, Hawaii, and later in Malaysia, in a cooperative project with the International Rubber Research Institute. Picloram in Agent White and Super-Orange was contaminated by hexachlorobenzene (HCB) a dioxin-like carcinogen. The Canadian government also tested these herbicides and used them to clear vegetation for artillery training.
A 2003 study in Nature found that the military underreported its use of rainbow herbicides by 2,493,792 U.S. gallons.
Of the agents used in southeast Asia, their years used were as follows:
Agent Green - used prior to 1963
Agent Pink - used prior to 1964
Agent Purple - used 1961–65
Agent Blue - used from 1962 to 1971 in powder and water solution
Agent White - used 1966–71
Agent Orange - used 1965–70
Agent Orange II - used after 1968
Agent Orange III - Year(s) not available
Super Orange - Operation Ranch Hand, Vietnam 1961-1971
The above information is from: